Browsing all articles in Blog
Ink City Company is cleaning up around the shop and making some big changes. We'll keep you posted.
Happy Friday Everyone!!
$10 for Digitally Printed Shirts (white only)
 Have a great week!
"Hot Off the Press!" Salon Exclussif just recently had their grand opening! If you want to give your hair a new look, visit there website for more info at http://www.exclussif.com/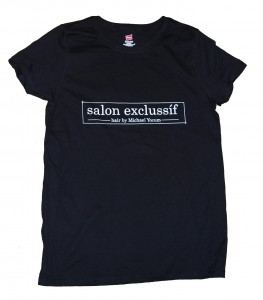 Success is often achieved by those who don't know that failure is inevitable. – Coco Chanel
Ink City Co. Custom Shirts & Apparel is doing a promotion for free shirts. We just recently created a Facebook and Twitter and to promote our network we will be doing 6 random drawings.
The "winners" of these drawings will be receiving a coupon for a free printed shirt (digitally printed on a white shirt) with their own design.
Starting May 2, 2011 until Friday, May 6, 2011 you can qualify for this contest if you follow us on Twitter (link below):
or like us on Facebook (link below):
Each individual can have the chance to win 2 shirt prints.
We will be choosing 3 from Facebook and 3 from Twitter. If you are chosen, we will be contacting you via your Facebook or Twitter page.
Search the site
Follow Us On Twitter